Papers: New Neville deal?
24-03-2010, 10:23 PM
CDev
Club Captain


Posts: 1,698
Joined: Jul 2009
Reputation: 0
Papers: New Neville deal?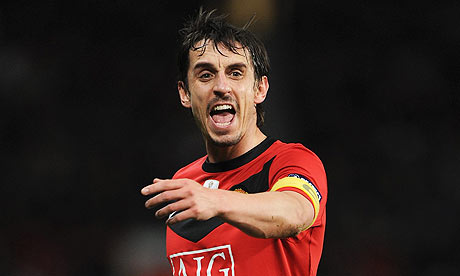 Gary Neville will be handed a one-year contract extension by Manchester United this summer.
Neville has done enough to convince Sir Alex Ferguson and his coaching staff he can extend his glittering United career by one more season.
The United skipper has fought back from a career-threatening ankle injury to re-establish himself as a first-team regular as the title race enters the home straight.
And although Fergie knows he will not get more than 25 games out of Neville next season, the United boss wants to retain the veteran for his invaluable experience and knowledge.
"I can certainly see Gary playing on next season," said Fergie. "He's a player of great willpower."
"He's got where he is in life because he has the will to do it."
"We don't play him every week because of the nature of his body. But he's showing incredible drive for a 35-year-old. I think he's a great example."
David McDonnell, Mirror
---
CDev, proud to be a member of ManUnitedZone.co.uk since June 09
User(s) browsing this thread: 1 Guest(s)
Take me home, United Road, To the place I belong, To Old Trafford, To see United, Take me home, United Road