Gill - Money is not an issue
29-05-2010, 10:09 AM
CDev
Club Captain


Posts: 1,698
Joined: Jul 2009
Reputation: 0
Gill - Money is not an issue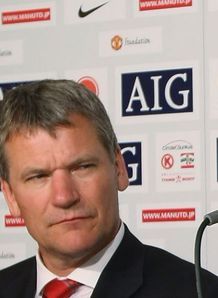 Manchester United chief executive David Gill insists there are no restrictions on Sir Alex Ferguson in the transfer market.
After the £80million sale of Cristiano Ronaldo to Real Madrid, Ferguson failed to re-invest the majority of the proceeds, causing discontent among supporters who saw the move as servicing the financial burden brought on the club by owner Malcolm Glazer and his family.
Ferguson's claims that there was "no value in the market" after the huge fees paid by the likes Real Madrid and Manchester City distorted an already inflated market were met by scepticism by the Old Trafford faithful.
However, Gill claims that Ferguson will definitely have the funds to spend in the summer and has rejected suggestions the decorated manager would make false claims.
He told The Independent: "The money is there. People say Alex is saying that because he has to. Anyone who knows Alex Ferguson knows he wouldn't say that if he didn't mean what he said.
"The money is definitely there. The results for the quarter ending 31 March (released today) will show the figures are about £95million cash."
"We are not in a situation whereby Alex is restricted in what he wants to do with the club and his modus operandi as a manager. We have never said: 'You can't do that, we have to pay interest (on the debt).'
"I can look you in the eye and say that. He would say exactly the same thing. People don't believe it. We never said to him: 'You can't go for that player because he's too much'."
As well as failing to retain their Premier League crown, United endured a troubled season off the pitch with many supporters joining the "green and gold" campaign criticising the approach of the Glazer family.
Gill believes the movement at Old Trafford will fade and labelled it a "visible minority" which would "go away".
The fans' group against the Glazer family's ownership of the club gained momentum last season with an increasing number of supporters wearing the green and gold scarves at United matches, representing the club's early incarnation as Newton Heath.
"The green and gold campaign and the momentum behind that can get a bit tiring," he added.
"We understand people's desire to protest and I think it is a minority. It's a visible minority in the stadium."
"Would we prefer not to have them [green and gold scarves]? Yes. They have a right to protest. A lot of the fans clearly care about the club and that is a strength.
"But a lot of the other fans want to know that the team is playing attractive football, exciting Manchester United-style football, winning football. Who owns it is a bit irrelevant to them.
"I think that [the green and gold] minority will go away. A lot of people understand what it means but a lot of them don't."
---
CDev, proud to be a member of ManUnitedZone.co.uk since June 09
User(s) browsing this thread: 1 Guest(s)
Take me home, United Road, To the place I belong, To Old Trafford, To see United, Take me home, United Road