Deco: We're at war with United
24-04-2010, 11:07 AM
CDev
Club Captain


Posts: 1,698
Joined: Jul 2009
Reputation: 0
Deco: We're at war with United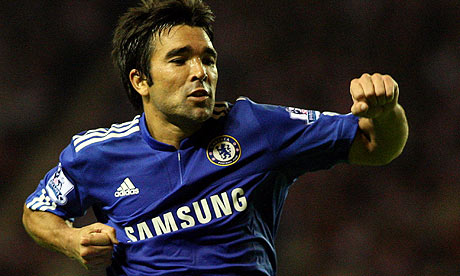 Deco insists Chelsea have three massive battles to win in the war to lift the Premier League title.
The Blues hold a slender one-point lead over champions Manchester United with just Stoke, Liverpool and Wigan left to play.
And Portuguese ace Deco has done his bit to rally Carlo Ancelotti's troops by comparing the title race to warfare.
He said: "The last three games will be difficult and of course there is pressure in our minds because we need to win our games if United win theirs.
"It is a war and we need to be prepared.
"But if you said on the first day of the Premier League in August we would be one point clear with three games to go, two at home and one away, we would all take it.
"It would be better if we won or United lost last weekend, but that didn't happen.
"Now our moment is here. We have three games and we need to play well and be together."
Chelsea's title hopes were dealt a major blow when they lost 2-1 at Tottenham on Saturday.
United had already beaten arch-rivals City in the Manchester derby before the Blues slipped up at White Hart Lane.
And Deco admits Chelsea must ensure they bounce back in style against Stoke on Sunday.
He added: "It was frustrating but we need to carry on.
"I don't think we played a bad game against Spurs — we didn't have a lot of luck — and we need to recognise they played well."
---
CDev, proud to be a member of ManUnitedZone.co.uk since June 09
User(s) browsing this thread: 1 Guest(s)
Take me home, United Road, To the place I belong, To Old Trafford, To see United, Take me home, United Road