Crouch backs Rooney to rule
08-06-2010, 09:10 PM
CDev
Club Captain


Posts: 1,698
Joined: Jul 2009
Reputation: 0
Crouch backs Rooney to rule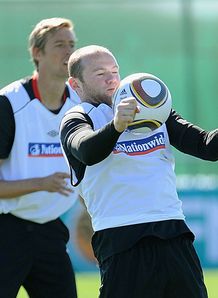 Peter Crouch believes Wayne Rooney can inspire England to World Cup glory, becoming the best player on the planet in the process.
The Manchester United striker heads into this summer's tournament in South Africa with the expectations of a nation resting on his broad shoulders.
A spectacular season at club level, which brought 33 goals, has helped to cement his standing as one of the best all-round frontmen in the modern game and silence those who questioned his ability as a leading marksmam.
It is hoped he will now be able to transfer that form onto the international stage, with England looking to him to lead the way.
Tottenham Hotspur ace Crouch is tipped to be the man to start alongside Rooney when England get their World Cup campaign up and running against the United States on Saturday, and is full of praise for his possible partner.
The Spurs hitman feels Rooney has the ability to end 44 years of pain and suffering for the Three Lions this time around, while he also feels that the 24-year-old should be considered a leading candidate for the 2010 World Player of the Year award - a title no Englishman has won since the accolade was introduced in 1991.
"It is massive for us to have someone in such great form going into the World Cup," Crouch told The Sun.
"He has always been fantastic. A top-class player. People are saying he needs to play with another striker.
"But this season at United he has proved he can play up front on his own and still score goals.
"Wayne is world-class. He is in the top five players right now - everyone would agree with that.
"I think he could end up being the World Player of the Year. It would be great for England if someone could do that.
"Frank Lampard got extremely close. For someone to win it would be phenomenal. You also forget how young Wayne is.
"He has achieved so much in a short time. He has a long, long way to go in his career. And he is more mature than, say, five years ago.
"We had a long winter in the Premier League and the World Cup is in every England player's mind.
"It's an exciting time for everyone concerned. It has been far too long since we won the World Cup or even got close to winning it.
"I would like to think we can live up to our expectations. We have a strong belief. The way we qualified with games to spare was good. We have a fantastic squad.
"We have talked ourselves up before and it has been frustrating that we have not lived up to our expectations.
"This year we would like to go out and really prove ourselves."
---
CDev, proud to be a member of ManUnitedZone.co.uk since June 09
User(s) browsing this thread: 1 Guest(s)
Take me home, United Road, To the place I belong, To Old Trafford, To see United, Take me home, United Road